$289,000 | 101Z 107Z Rue du Moulin
#10964712
Ce quadruplex à Windsor est composé de 4 logements 5.5. Immeuble à revenus avec une excellente rentabilité et une possibilité d'achat à 15% de mise de fonds. Revenu annuel brut de 28 620$. Possibilité d'acheter le duplex à côté aussi. Voir fiche MLS: 25453641. Une opportunité d'affaires exceptionnelle. Informez-vous pour les détails!
Number of rooms :
3 room(s)
Nombre de salles de bain :
1 salle(s) de bain
Number of room :
5 room(s)
Year of construction :
1930
Délai d'occupation :
60 days
Building
38 sf x 54 sf (2107 sf)
Land
70 f x 83 f (5812 sf)
Evaluations
Year of evaluation:
2019
Land:
$18,500
Building:
$238,000
Municipal assessment:
$256,500
Dépenses
Municipal Taxes (2019) :
$4,236
School taxes (2019) :
$331
Units details
Type
Number of room
Vacante
Area
Potential income
Residential potential income:
$28,620
Addenda
On connait Windsor pour son usine Domtar ultramoderne qui produit du papier fin, mais avec ses deux parcs industriels, on y trouve aussi plusieurs autres entreprises importantes dont une petite nouvelle qui aura vitrine sur l'autoroute. C'est un quartier en plein essor à proximité de Sherbrooke, Richmond et Drummondville.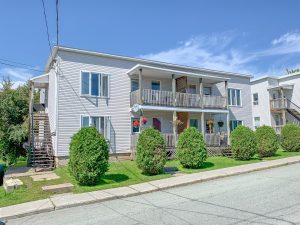 10964712
101Z 107Z Rue du Moulin
J1S1M5