$279,900 | 793 Rue des Girolles / Rock Forest
#11231762
Jumelé de style moderne situé dans un secteur jeune, dynamique et familial de Rock Forest. Il possède plusieurs atouts : 3 chambres au 2e étage, grande cuisine fonctionnelle, salle de cinéma maison, planchers de bois franc sur 2 étages, fenestration généreuse, 2 thermopompes, entrée asphaltée double largeur, cabanon, terrain boisé, et bien plus!
Number of rooms :
3 room(s)
Nombre de salles de bain :
1 salle(s) de bain
Nombre de salle d'eau :
1 salle(s) d'eau
Number of room :
10 room(s)
Year of construction :
2014
Délai d'occupation :
60 days
Building
25 sf x 25 sf (717 sf)
Land
112 f x 38 f (4251 sf)
Evaluations
Year of evaluation:
2019
Land:
$49,800
Building:
$178,400
Municipal assessment:
$228,200
Rooms description
Floor
Room
Dimensions
Floor
Ground floor
Hallway
11.2x6.9 p
Ceramic tiles
Ground floor
Living room
12.3x14.6 p
Wood
Ground floor
Kitchen
13.8x9.10 p
Ceramic tiles
Ground floor
Dining room
13.7x8.8 p
Wood
Ground floor
Washroom
10x5.4 p
Ceramic tiles
2nd floor
Master bedroom
14.5x12 p
Wood
2nd floor
Bedroom
10x10.9 p
Wood
2nd floor
Bedroom
10x10.5 p
Wood
Ground floor
Bathroom
11.5x7.7 p
Ceramic tiles
Basement
Family room
23.10x6.8 p
Tiles
Basement
Other
19.5x12.8 p
Carpet
Basement
Workshop
7.10x8.5 p
Concrete
Dépenses
Energy cost :
$1,640
Municipal Taxes (2019) :
$2,593
School taxes (2019) :
$322
Units details
Type
Number of room
Vacante
Area
Addenda
Vous êtes à la recherche d'une propriété de style moderne? Dès votre arrivée, vous constaterez que le look extérieur de ce jumelé le distingue des autres! Caractéristiques intérieures: Jumelé très bien divisé et aéré. Planchers de bois franc (érable) et céramique sur 2 étages, plancher de vinyle de qualité au s-sol. Orientation des fenêtres avant plein sud, luminosité abondante toute la journée. Au RDC: Grand hall d'entrée avec garde-robe. Salon équipé d'encastrés avec gradateur. Cuisine fonctionnelle, grand comptoir-lunch de style îlot et mur complet d'armoires. Salle d'eau / salle de lavage avec rangement, comptoir de pliage et pôle pour séchage. À l'ÉTAGE: Escalier de bois franc, fenêtre pleine hauteur amenant beaucoup de lumière. Chambre des maîtres avec walk-in et pouvant accueillir un lit king. 2 autres chambres de bonnes dimensions. Salle de bain avec douche céramique vitrée et bain à podium de céramique. Au SOUS-SOL: En descendant l'escalier au sous-sol, une salle familiale. La pièce pourrait être convertie en chambre. Salle de cinéma maison - Entièrement isolée; Air climatisé dédié et insonorisation renforcée; lumières encastrées avec gradateur; Tapis haut de gamme au sol et au plafond pour une acoustique soignée; Prise au plafond pour projecteur; Espace prévu pour toile (actuellement 110'' de diagonale); Sorties murales pour enceintes surround. Atelier équipé d'un brut de plomberie et du système d'aération, possibilité de le convertir en salle de bains. Équipements: 2 thermopompes murales offrant un confort à l'année - L'une au 2e étage et l'autre dans le cinéma maison; Échangeur d'air avec sortie dans toutes les pièces; Connectivité réseau filaire ultra haute vitesse (1 gigabit) dans toutes les pièces. Demandez-nous une visite! ** Prendre note que la valeur de l'évaluation municipale ne tient pas compte de toutes les améliorations et ajouts effectués depuis 2014.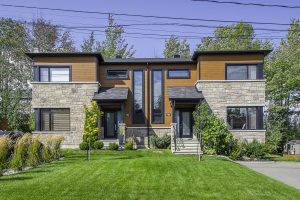 11231762
793 Rue des Girolles
J1N0Y2