$129,900 | 1136 1138 Rue Larocque / Jacques-Cartier (Sherbrooke)
#13429298
À quelques minutes du CÉGEP de Sherbrooke et de l'Université, à proximité du réseau de transport en commun et de multiples commerces et services, ce duplex constitue une occasion d'investissement à saisir! 2 X 3 ½ avec chacun leurs installations laveuse/sécheuse. Belle vue sur la ville du 2e étage. Grande remise dans la cour arrière!
Number of rooms :
1 room(s)
Nombre de salles de bain :
1 salle(s) de bain
Number of room :
3 room(s)
Year of construction :
1912
Délai d'occupation :
30 days
Building
26 sf x 23 sf (639 sf)
Land
50 f x 100 f (5005 sf)
Evaluations
Year of evaluation:
2019
Land:
$39,500
Building:
$94,000
Municipal assessment:
$133,500
Dépenses
Municipal Taxes (2020) :
$2,169
School taxes (2019) :
$178
Units details
Type
Number of room
Vacante
Area
Potential income
Residential potential income:
$10,320
Inclusions
Luminaires, lustres, stores
Exclusions
Effets personnels des locataires.
Addenda
Le bâtiment est doté d'un appartement 3 ½ situé au rez-de-chaussée et d'un 3 ½ situé à l'étage.
Les revenus potentiels incluant les deux logements s'élèvent à 10 320$ par année!
Détails de l'appartement 3 ½ situé au rez-de-chaussée:
Situé au rez-de-chaussée, le 3 ½ offre une aire commune regroupant la cuisine et la salle à manger, ainsi qu'un lumineux salon.
Une porte extérieure se situe dans la cuisine, en plus d'un dosseret de céramique et d'armoires de bois.
La chambre principale est dotée d'une garde-robe de bonne dimension.
Les installations laveuse et sécheuse de l'appartement se trouvent dans la salle de bains, en plus d'un bain-douche de céramique.
L'appartement du 2e étage offre quant à lui une belle vue sur la ville!
Une grande remise se situe à l'arrière du bâtiment, ce qui permet beaucoup d'espace de rangement supplémentaire!
La présente ne constitue pas une offre ou une promesse pouvant lier le vendeur à l'acheteur, mais une invitation à soumettre de telles offres ou promesses.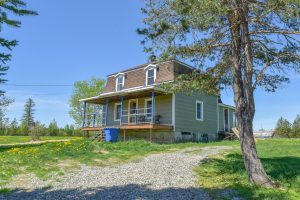 13429298
1136 1138 Rue Larocque
J1H4R9