$324,900 | 1245 Rue des Pensées
#16862680
Ravissante propriété avec plafond cathédrale et jolie véranda au plancher chauffant! Les paliers de la maison sont bien pensés et offre de multiples possibilités. L'aire commune regroupant cuisine, salle à manger et salon est splendide. Comptoir de quartz. 6 chambres. 2 salles de bain. Garage simple. Terrain intime. Oui, la maison possède tout ça!
Number of rooms :
6 room(s)
Nombre de salles de bain :
2 salle(s) de bain
Number of room :
8 room(s)
Year of construction :
1994
Délai d'occupation :
60 days
Building
38 sf x 42 sf (1193 sf)
Land
55 f x 102 f (6341 sf)
Evaluations
Year of evaluation:
2019
Land:
$64,800
Building:
$197,200
Municipal assessment:
$262,000
Rooms description
Floor
Room
Dimensions
Floor
Ground floor
Hallway
5x5.8 p
Ceramic tiles
Ground floor
Dining room
13x15.1 p
Wood
Ground floor
Kitchen
10.4x19 p
Ceramic tiles
Ground floor
Veranda
12x16 p
Ceramic tiles
2nd floor
Master bedroom
12.8x12.9 p
Wood
2nd floor
Bedroom
9.10x11.8 p
Floating floor
2nd floor
Bathroom
8.9x11.3 p
Ceramic tiles
Basement
Bedroom
8.5x10.2 p
Floating floor
Basement
Bathroom
7x8.4 p
Ceramic tiles
Other
Den
5.10x15 p
Floating floor
Other
Bedroom
9.3x12.6 p
Floating floor
Other
Bedroom
9.9x14.8 p
Floating floor
Other
Bedroom
10.5x10.9 p
Floating floor
Dépenses
Energy cost :
$3,324
Municipal Taxes (2020) :
$3,089
School taxes (2019) :
$381
Units details
Type
Number of room
Vacante
Area
Inclusions
Luminaires, stores, toiles, aspirateur central et accessoires, échangeur d'air, lave-vaisselle, horloge (non fonctionnelle, pour décoration).
Addenda
C'est en arrivant sur que vous constaterez la beauté de cette propriété!
Le plafond cathédrale du RDC est vraiment agréable. On ne se sent pas à l'étroit du tout et ça donne envie d'inviter la famille et les amis.
Fenêtre en arc à l'avant dans la salle à manger, comptoir de quartz à la cuisine, évier double, îlot central de 8'5", armoires de bois, buffet encastré, plancher chauffant et plus encore. Ce sera à vous de le découvrir.
La véranda est un prolongement de la cuisine. Elle a donc le plancher chauffant aussi. Un coquet salon est présentement aménagé dans l'espace.
À l'étage, 2 chambres à coucher avec garde-robe puis salle de bain possédant une douche et un bain.
Sur le premier palier du sous-sol, c'est l'entrée du garage simple, une chambre à coucher et une salle de bain!
Un peu plus bas, un long corridor bien aménagé permet d'accéder aux 3 autres chambres à coucher de la propriété.
À l'extérieur, la maison a non seulement un endroit intime grâce aux haies de cèdres, mais aussi, un accès à la véranda, une remise sur pieux et du beau gazon vert pour y laisser jouer les enfants !
La propriété se trouve tout près de : – L'autoroute 610; – Les Galeries 4 saisons; – Le transport en commun; – Le parc Maillé; – Le Centre de formation professionnelle 24 Juin; – Le CHUS; – Le Centre Julien-Ducharme; – Puis une foule de restaurants !
* L'évaluation de la maison est non représentative puis qu'il y a eu beaucoup de rénovations.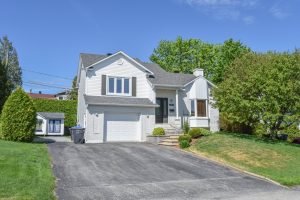 16862680
1245 Rue des Pensées
J1E4H1