$186,000 | 1119 Rue Évangeline / Jacques-Cartier (Sherbrooke)
#17626505
Sublime maison de 1939 au cachet unique! Cette propriété a été extrêmement bien rénovée et entretenue au fil des ans. Non loin du centre-ville, de grands espaces verts et de la route longeant la rivière St-François. 4 chambres à l'étage puis RDC invitant avec bois franc au sol. Luminosité impressionnante et terrain double de près de 10 000 pi2.
Number of rooms :
4 room(s)
Nombre de salles de bain :
1 salle(s) de bain
Number of room :
8 room(s)
Year of construction :
1939
Délai d'occupation :
90 days
Building
24 sf x 30 sf (743 sf)
Land
100 f x 100 f (9977 sf)
Evaluations
Year of evaluation:
2019
Land:
$61,700
Building:
$108,700
Municipal assessment:
$170,400
Rooms description
Floor
Room
Dimensions
Floor
Ground floor
Hallway
5.5x9 p
Ceramic tiles
Ground floor
Kitchen
9x19.9 p
Wood
Ground floor
Living room
11.1x19.9 p
Wood
Ground floor
Bathroom
6.8x12 p
Ceramic tiles
2nd floor
Master bedroom
12.6x14 p
Parquetry
2nd floor
Bedroom
11.6x11.8 p
Parquetry
2nd floor
Bedroom
11.5x11.9 p
Parquetry
2nd floor
Bedroom
9x10.2 p
Parquetry
Basement
Other
22x27 p
Concrete
Dépenses
Energy cost :
$1,970
Municipal Taxes (2020) :
$2,149
School taxes (2019) :
$240
Units details
Type
Number of room
Vacante
Area
Inclusions
Lustres, habillage des fenêtres et aspirateur central
Exclusions
Lave-vaisselle, meubles et effets personnels des vendeurs, armoires de la remise extérieure.
Addenda
Les propriétaires de la maison veulent trouver des acheteurs qui profiteront du bel espace que la propriété a à offrir. Autant le terrain est grand, intime et bien aménagé… Autant la maison est «spick and span» !
Le RDC est à aire ouverte. Cuisine et salle à manger proposant un bel endroit pour recevoir la famille. Le salon est tout juste à côté, près de la porte-jardin. Bois franc au sol presque partout.
On retrouve 4 chambres à coucher à l'étage! Ça, c'est réellement parfait pour votre grande famille. De belles pièces avec garde-robe et grandes fenêtres à guillotine.
L'intérieur est joli, mais que dire de l'extérieur de la maison. Un terrain double bordé de hautes haies de cèdres et une immense remise. Vous pourriez installer un ensemble patio pour profiter de l'été pour regarder courir les enfants.
La maison est près de toutes les commodités !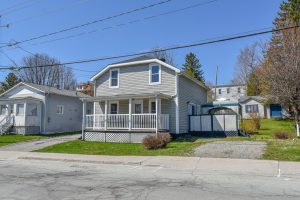 17626505
1119 Rue Évangeline
J1H5A1