$189,900 | 129 Rue Rankin
#18351628
Gros COUP DE COEUR pour cette maison unique installée à Windsor. Le premier coup d'oeil est parfait et que dire de l'intérieur, c'est IMPECCABLE!!! Boiseries un peu partout, 3 jolies chambres, s. familiale lumineuse, foyer au propane avec manteau en pierres, s. de bain rénovée et immense terrain avec arbres matures et haies de cèdres.
Number of rooms :
3 room(s)
Nombre de salles de bain :
1 salle(s) de bain
Nombre de salle d'eau :
1 salle(s) d'eau
Number of room :
8 room(s)
Year of construction :
1946
Délai d'occupation :
30 days
Building
30 sf x 32 sf (960 sf)
Land
120 f x 181 f (21776 sf)
Evaluations
Year of evaluation:
2019
Land:
$34,000
Building:
$137,300
Municipal assessment:
$171,300
Rooms description
Floor
Room
Dimensions
Floor
Ground floor
Dining room
11.3x15 p
Wood
Ground floor
Kitchen
9.10x11.3 p
Wood
Ground floor
Living room
10x12.5 p
Wood
Ground floor
Bathroom
5x7.9 p
Ceramic tiles
Ground floor
Bedroom
10x10 p
Wood
Ground floor
Veranda
7.4x29.5 p
Wood
2nd floor
Bedroom
10x12.8 p
Wood
2nd floor
Bedroom
9.10x12.5 p
Wood
2nd floor
Washroom
4.1x4.6 p
Wood
2nd floor
Storage
4x4.7 p
Wood
Basement
Other
22x28 p
Concrete
Dépenses
Energy cost :
$750
Municipal Taxes (2019) :
$2,356
School taxes (2019) :
$220
Units details
Type
Number of room
Vacante
Area
Addenda
Au RDC: Sublime plancher de bois partout! Vaste salle à manger avec belle fenestration et ouverture en arche vers la cuisine. Cuisine centrale possédant un grand évier profond, un garde-manger, des armoires de bois jusqu'au plafond et un comptoir de céramique. Salon parfait pour les soirées en famille avec une ouverture vers la véranda. Cette dernière est accessible par la cuisine et offre une porte vers le balcon extérieur, un imposant foyer au propane avec manteau en pierres, un nombre incalculables de fenêtres et l'accès au sous-sol. Salle de bain mélangeant les looks industriel et rustique à la fois. Bois de grange au mur, céramique au sol puis bain-douche avec petite porte vitrée. *Le nouveau lavabo n'était pas installé lors des photos, mais le sera lorsque vous achèterez la propriété! Chambre à coucher faisant actuellement office de beau bureau de travail. À l'ÉTAGE: 2 chambres de dimensions semblables avec plafond mansardé et toujours les lattes de bois au sol. Mignonne salle d'eau pratique et fonctionnelle tout juste à côté d'une grand rangement de 4' x 4'7''. Au SOUS-SOL: Non aménagé, directement sur le plancher de béton. Vous pourriez réorganiser le coin salle de lavage et le coin atelier avec établi à votre goût ! À L'EXTÉRIEUR: Garage simple attaché à la maison. Vaste terrain de campagne en plein coeur du village de Windsor avec arbres et haies de cèdres offrant beaucoup d'intimités. Galerie de bois à l'arrière avec accès à la véranda. La maison est près de tous les services puis à seulement 18 minutes de Sherbrooke!!!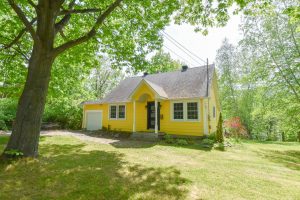 18351628
129 Rue Rankin
J1S1Y2