$179,000 | 57 59 Rue Market / Richmond
#19808937
UNIQUE! Cette propriété datant de 1867 a une histoire bien particulière. On y trouve actuellement 2 logements (6.5 et 4.5) pour un revenu brut annuel de 16 800$. Un vrai petit bijou! Grands balcons à l'avant. Maison chaleureuse avec boiserie de l'époque. Garage 24' x 40' pour bricoler. Terrain clôturé, idéal pour y laisser courir les enfants!
Number of rooms :
4 room(s)
Nombre de salles de bain :
1 salle(s) de bain
Number of room :
6 room(s)
Year of construction :
1867
Délai d'occupation :
15 days
Land
137 f x 131 f (10200 sf)
Evaluations
Year of evaluation:
2019
Land:
$19,000
Building:
$149,800
Municipal assessment:
$168,800
Dépenses
Municipal Taxes (2019) :
$2,683
School taxes (2018) :
$265
Units details
Type
Number of room
Vacante
Area
Potential income
Residential potential income:
$16,800
Inclusions
Luminaires, système de chauffage du garage, clôtures, aspirateur central.
Addenda
Un peu d'HISTOIRE !
Le duplex est situé dans l'ancien quartier de Jamesville (lieu où résidaient les dirigeants du CN (Canadien National)).
Autrefois, la rue Market était le lieu de rassemblement des gens de Richmond et à l'origine, le garage de la propriété abritait la boucherie du village. Dans la rue, il y avait: un marchand de glace, un barbier, un petit marcher de fruits et légumes, un bureau de poste et même le médecin !
Aussi, au début du siècle, à Richmond, on y trouvait l'une des plus grosses gares de trains. Ceux-ci fonctionnaient au charbon de bois. Avec le temps, les maisons ont été tachées par la suie. Au lieu de payer pour les faire nettoyer, le CN a donné de la peinture rouge aux propriétaires et ces derniers ont tous repeint leur maison en Rouge Canadien National !
Depuis, le duplex a été «sandblaster» pour y enlever la peinture rouge de l'époque.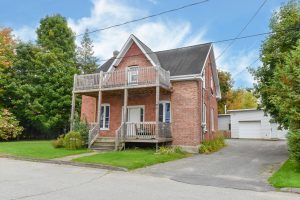 19808937
57 59 Rue Market
J0B2H0