$320,000 | 295 297 Rue Laval
#20912712
Superbe immeuble commercial entièrement loué à Brompton! Installé sur la rue principale. Accès facile à l'autoroute, aux quartiers résidentiels puis à divers autres commerces. Emplacement de choix. Salon de coiffure au sous-sol et restaurant en haut. Revenu annuel de 24 720$ en cumulant les 2 loyers. Informez-vous! C'est une opportunité en OR.
Year of construction :
1992
Building
46 sf x 26 sf (1218 sf)
Land
150 f x 150 f (19872 sf)
Evaluations
Year of evaluation:
2019
Land:
$167,300
Building:
$151,100
Municipal assessment:
$318,400
Dépenses
Municipal Taxes (2020) :
$7,186
School taxes (2019) :
$448
Units details
Type
Number of room
Vacante
Area
Inclusions
Thermopompe, unité de ventilation, hotte de cuisson, 4 banquettes, tables, chaises (pour 34 personnes), séchoir à main (2), lustres, ventilateurs de plafond, comptoir client, lavabo stainless de cuisine, frigo et congélateur commercial, 2 tables à picnik.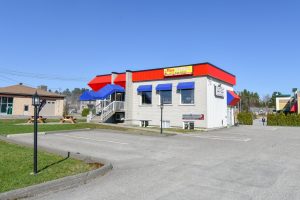 20912712
295 297 Rue Laval
J1C0R1