$145,900 | 3490 Rue Thérèse-Casgrain 708 / Jacques-Cartier (Sherbrooke)
#20925539
Condo CLÉ EN MAIN situé au rez-de-chaussée. Tout près du Carrefour de l'Estrie et de l'autoroute! Grand hall d'entrée. 2 chambres dont l'une avec une grande pièce-penderie. Cuisine avec armoires jusqu'au plafond. Porte-jardin au salon menant à votre balcon sur dalle de béton au niveau du sol. Profitez de ce petit coin de verdure même en condo!
Number of rooms :
2 room(s)
Nombre de salles de bain :
1 salle(s) de bain
Number of room :
8 room(s)
Year of construction :
2008
Délai d'occupation :
30 days
Evaluations
Year of evaluation:
2019
Building:
$145,100
Rooms description
Floor
Room
Dimensions
Floor
Ground floor
Hallway
5.6x10.9 p
Floating floor
Ground floor
Living room
13.1x17 p
Floating floor
Ground floor
Dining room
9.2x13.1 p
Floating floor
Ground floor
Kitchen
9.4x9.9 p
Ceramic tiles
Ground floor
Master bedroom
12.1x14.7 p
Floating floor
Ground floor
Other
5x7 p
Floating floor
Ground floor
Bedroom
10.8x11.6 p
Floating floor
Ground floor
Bathroom
8.7x10.3 p
Ceramic tiles
Ground floor
Storage
5.7x8.1 p
Flexible floor coverings
Dépenses
Energy cost :
$1,185
Co-ownership fees :
$1,680
Municipal Taxes (2019) :
$1,790
School taxes (2019) :
$188
Units details
Type
Number of room
Vacante
Area
Addenda
L'unité 708 du 3490 Thérèse-Casgrain est située au RDC. De grandes fenêtres dans toutes les pièces et un balcon extérieur parfait pour profiter des soirs d'été avec les amis! On y trouve: Vaste hall d'entrée avec garde-robe double et un endroit pour y ajouter une bibliothèque, un petit bureau, un espace lecture ou juste un banc! Salon et salle à manger à aire ouverte. Sublime plancher flottant partout. D'immenses fenêtres. Une porte-jardin au salon avec, à l'extérieur, un espace de béton en guise de balcon. Superbe finition de moulures au plafond et autour des fenêtres. Cuisine fonctionnelle vous offrant : des armoires de mélamine allant jusqu'au plafond, un évier double, une place spécifique pour y mettre le micro-ondes puis un comptoir-lunch de 2 places assises. Vaste chambre principale ayant une pièce-penderie de 5'2'' x 7' avec pôles et tablettes et 2e chambre du condo avec garde-robe et belle grande fenêtre. Une salle de bain possédant un bain surmonté d'une jolie structure avec colonnes, d'une douche indépendante et d'un grand meuble-lavabo ayant des lumières encastrées. Finalement, un spacieux rangement incluant chauffe-eau, échangeur d'air et aspirateur central!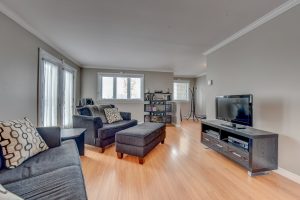 20925539
3490 Rue Thérèse-Casgrain 708
J1L3L8