$499,000 | 365Z Ch. Wheeler / Cookshire
#28241066
COUP de COEUR pour cette ferme a Cookshire-Eaton! Immense terrain de 47,8 acres comprenant: maison de campagne, cabane a sucre (2500 entailles), ecurie (4 box avec grenier), hangar (2 grandes portes), manege exterieur, petit lac baignable, pension canine (19 enclos int. + salle de toilettage) et garage double detache. FABULEUX domaine!
Number of rooms :
3 room(s)
Nombre de salles de bain :
2 salle(s) de bain
Number of room :
8 room(s)
Year of construction :
1980
Délai d'occupation :
60 days
Building
40 sf x 33 sf (1247 sf)
Evaluations
Year of evaluation:
2019
Land:
$150,500
Building:
$263,400
Municipal assessment:
$413,900
Rooms description
Floor
Room
Dimensions
Floor
Ground floor
Kitchen
10x11.5 p
Ceramic tiles
Ground floor
Dining room
8x12.3 p
Floating floor
Ground floor
Living room
14.1x16.1 p
Floating floor
Ground floor
Den
7.9x9 p
Floating floor
Ground floor
Master bedroom
13.2x16.8 p
Floating floor
Ground floor
Bathroom
9.8x10.3 p
Ceramic tiles
Ground floor
Bathroom
9x10.2 p
Ceramic tiles
Basement
Bedroom
12.9x15.8 p
Floating floor
Basement
Bedroom
12.2x13.4 p
Floating floor
Basement
Other
4x12.2 p
Floating floor
Basement
Workshop
12.9x29.7 p
Concrete
Dépenses
Energy cost :
$4,150
Municipal Taxes (2019) :
$4,059
School taxes (2018) :
$698
Units details
Type
Number of room
Vacante
Area
Addenda
Vente taxable dans une proportion de 22 % qui represente la pension pour chien et le service de toilettage. Possibilite pour l'acheteur de se faire rembourser tps et tvq, communiquez avec votre courtier pour plus d'information ! IMPRESSIONNANTE propriete aux nombreuses possibilites! ** MAISON Elle saura vous charmer avec: - Ses boiseries un peu partout. - Son plafond cathedral de 12'5'' au RDC. - Sa fenestration abondante. - Ses 2 salles de bains. - Sa chambre principale comptant 3 garde-robes, etc. ** GARAGE Le garage double detache a 2 portes et un enclos a chien exterieur d'un cote permettant d'y garder vos propres chiens ! ** ECURIE On y trouve l'eau, l'electricite et le chauffage puis : 4 box pour les chevaux, une sellerie avec lavabo et un grenier pour le foin. ** HANGAR 2 grandes portes pour votre machinerie agricole. ** CABANE A SUCRE Vous y trouverez: - 1500 chaudieres. - Jusqu'a 2500 entailles possibles. - Electricite sur place. - 40 places assises pour les invites ** AUBERGE / PENSION pour chiens Emplacement de choix comprenant: - 19 enclos interieurs avec climatisation et chauffage. - 1 parc exterieur cloture. - 4 enclos exterieurs. - 1 salle de toilettage. - 1 bureau d'accueil. - Toilette et laveuse-secheuse. ** TERRAIN de 47,8 acres qui est rempli d'arbres matures et de larges sentiers pour la promenade a pied, en VTT ou a cheval !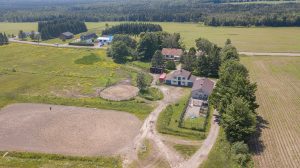 28241066
365Z Ch. Wheeler
J0B1M0